Traveling With Your Cat
It's safe to say that cats tend to be more than unenthusiastic travelers, but if you're prepared, have the proper equipment/supplies, and plan your trip with a cat's eye view, all can go well. Visit with your vet and discuss the trip you are going to take with your cat so that he can advise you on any medications or tips that will be helpful in making your travels a pleasant experience for you and your pet.
Road Tripping with Your Cat
Start Preparing Early
The single most important thing you can do to prepare your cat for car travel is to sensitize it to the experience. If you have a young kitten and take him on some short car trips during that time period, the kitten will become accustomed to car travel. It may never particularly like it, but it will tolerate it.
To get your cat used to riding in the car, start by taking short drives around the block and gradually increase the time you spend in the car until your cat is comfortable going for rides. It may help relieve stress to give your cat Rescue Remedy or Feliway spray, two natural remedies for keeping kitties calm.
Get prescription medication for motion sickness, if necessary. If your cat is prone to motion sickness, which your trial runs should determine, ask your vet to prescribe medication. Anti-nausea medication such as chlorpromazine can be used to help control motion sickness.
The signs of a cat with motion sickness include: continual crying or vocalizing, excessive drooling, immobility, or acting afraid to move, or excess activity or pacing, vomiting, or urinating or defecating.   Ginger has also been used to treat nausea in humans and it is safe to use in cats; this can be found in liquid form or chews from on-line pet stores or from your veterinary clinic.
Car Travel Checklist
You'll need lots of stuff to keep kitty healthy and happy (or at least contented!). Here's a checklist of must-have items that you'll not want to leave home without:
Carrier
Always keep your cat in a carrier when the car is moving! The carrier you choose should be big enough for your kitty to sit, stand, turn around, and lie down. Spend time introducing your cat to the carrier before your trip so he or she is used to it and comfortable before the big day. SleepyPod makes wonderful carriers for car travel, and they are the only pet carriers on the market that have been crash-tested for safety!
Place your cat in the carrier with the harness on. Car rides are stressful for cats regardless if they like them or not. Having a harness and a leash on the cat whenever it is out of the carrier (even in the car) gives you something to grab in case the cat decides to bolt from an open window or door.
Food, water and bowls. Be sure to bring along your cat's regular food, and even the water that your cat is accustomed to drinking. If that's tap water, bottle some and bring it along.
Toys and bedding. Bring along some comforts of home. Choose some favorite toys and familiar bedding that the cat already uses. Scratching posts or scratch pads are important to have for your cat.
Litter and accessories. You probably won't bring your cat's regular litter box. But DO bring the brand of litter that you use at home, and that's already familiar to your cat. Also bring along disposable litter trays, OR a small non-disposable litter tray, a scooper, and disposable bags.
Medications and Feliway or Rescue Remedy for any anxiety or motion sickness that may affect your cat.
Stop for Breaks, Rest, and Exercise
If you're the type that likes to hit the road hard and drive 5, 6, 7 hours at a stretch, you'll need to change to accommodate kitty. Plan to stop every couple of hours to give your cat a break.
If you're in a safe location, you can let your cat out of the carrier for a few minutes – but BE CAREFUL. If the cat is stressed it might be inclined to bolt at the first opportunity. Be sure your cat is wearing its ID tag.
When you do stop, do not leave your car parked in direct sunlight with the windows rolled up – not even for a couple of minutes. And don't leave your cat in direct sunlight on a warm day inside or outside of the car.
Food
Many kitties will get carsick if they have a full belly, so feed your cat 3-4 hours before you get in the car and then take any remaining food away to avoid an upset stomach.
Water
Give your cat plenty of water to drink. Bring a portable water dish in the car with you and offer it to your cat when you stop for breaks along the way. It's a good idea to bring a large supply of your own water from home whenever you travel, as the water supply from unfamiliar places could upset your cat's stomach.
Safety
Never, ever leave your cat alone in a parked car! This is especially important in warm weather, as pets can quickly develop heatstroke and die in a matter of minutes in a car. Also, be careful to keep them from harmful cold weather and safe from theft.
Luggage
When you're packing your bags, be sure the pack a separate bag just for your cat. Include everything your cat needs to feel at home – food and water bowls, any medications, litter and a scoop, toys, treats, and even your vet records, just in case you should need them. It's a good idea to bring your cat's favorite blanket or bed to give him a sense of home.
Road tripping with your cat can be fun and hopefully at least be tolerated by your cat. Plan ahead, bring along some of the cat's comforts of home, take things easy with plenty of rest stops, and all is likely to go well.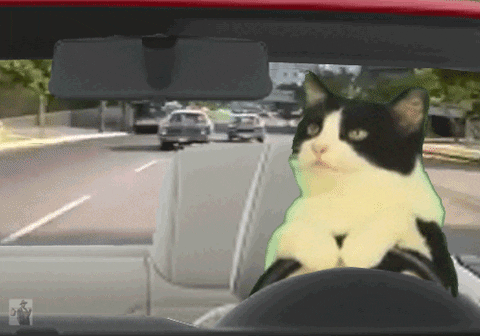 Tips for Traveling by Plane
Checkup
Have your cat seen by the veterinarian before you travel to make sure he or she is ready to fly. Some airlines require a health certificate from the vet, so check with the airline when you book your flight. You may also need to show proof that your kitty is current on vaccinations. Note that airlines will not accept a sedated animal because it is more difficult to know if the animal is experiencing any health problems, including heat stroke.  Rescue Remedy is an acceptable calming alternative as the animal remains fully alert.
Booking
Minimize stress on your kitty by booking direct flights whenever possible. Though some airlines will allow pets to travel in the cargo hold of the plane, you should always travel with your cat in the cabin because it's much safer! It's not recommended to have your cat fly in the cargo hold of the airplane.
Carrier
In order for your cat to travel in the cabin of the plane with you, you'll need to be able to fit her carrier under the seat in front of you. The SturdiBag pet carrier is perfect for this use. Or, search for other airline approved, soft sided carriers.
Additional tips for a smoother flight for both you and your pets
Exercise your cat before the flight.  A tired pet is a calmer pet.
Note that airlines will not accept a sedated animal because it is more difficult to know if the animal is experiencing any health problems, including heat stroke.  Rescue Remedy is an acceptable calming alternative as the animal remains fully alert.
Ensure that your pet has had fresh food and water within 4 hours of the flight time.
***Tags and microchips should be up to date with your most recent contact information.
Call your airline well in advance of your trip as most airlines limit the number of pet carriers that can be inside the cabin for each flight
Major US Airlines That Allow Pets to Fly With You In The Cabin
American Airlines: Cats and dogs
US Airways: Cats and dogs
Air Canada: Cats and dogs
Alaska Airlines:  Cats and dogs
Delta Airlines: Cats and dogs
Frontier Airlines:  Cats and dogs, hamsters, guinea pigs, rabbits, and small household birds
Jet Blue:  Cats and dogs
Southwest: Cats and dogs
Contact each specific airline for more information (number of pets allowed, age requirement, maximum kennel size, weight limit, and fee).  More information can be found at PetTravel.com
IMPORTANT!!!
Always keep identification on your cat when you're traveling. If your cat has a microchip, great! If not, make sure he or she is wearing a collar with an identification tag that is printed with your current contact information. Since you'll be traveling, the tag should include your mobile phone number. It's also a good idea to include any special needs your cat may have. For example, if your cat needs daily medication have that printed on his tag, too. That information may encourage someone to call you or take your cat to a vet should he become lost.
When You've Arrived At Your Destination
Hotels
If you're staying in a hotel, it's a good idea to use the "Do Not Disturb" sign when you're away. You don't want housekeeping to enter the room and accidentally let your cat escape! Also, if your cat will use them, disposable litter boxes, available at Petsmart and Amazon.com, make packing and cleaning up a breeze.
Staying with Guests
If you and your cat are staying with family or friends, confine your cat to a single room – at least until you're sure he or she is comfortable in his new surroundings. Be sure that your hosts are not in the habit of leaving doors and windows open and that there is no way your kitty will be able to escape. If your hosts have pets of their own, keep your cat separated from them until you've had time to make proper, slow introductions.
Spray wherever you're staying with Feliway (or use the Feliway diffuser) before putting your cat in the room. Feliway products are available at Petco.com, Amazon, Chewy.com, and Drs. Foster and Smith. If you go out, put your cat in its carrier and the 'Do Not Disturb' sign on your door, in case the maid should come by. If you're going to be out for the day, put the cat in the bathroom with its things and shut the door (if possible). Then leave a note on the door stating your cat is currently in there and to please be careful not to let it out.
By taking a few precautions and following these tips, perhaps your cat can enjoy taking a vacation with you!