Traveling With Your Dog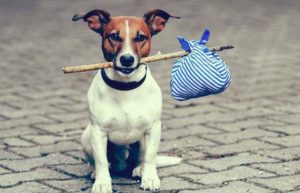 Taking your dog along can make the family vacation more fun for everyone if you plan carefully. Here are some trip tips to make traveling with your dog an enjoyable experience.
Before The Trip
1. Make sure your pet is physically able to travel. If your pet is older, if it is very young and not well trained, or if it has been sick or at the vet a lot, reconsider your position. Your dog or cat may be better off in familiar surroundings with a loving pet sitter than on unfamiliar turf at this time.
2. If you are planning to travel abroad, particularly if you are planning to travel to any of the United Kingdom (UK) countries from a rabies free country or any of the other countries with a low incidence of rabies, be aware that, as of January 1, 2012, requirements for pets entering the UK have eased a bit. Your pet will need to be microchipped and vaccinated at least 21 days prior to travel. If you are traveling from a country with a high incidence of rabies, you will need to do a Blood Titer Test one month after vaccination and three months prior to entering the UK.
3. Visit your veterinarian. In the case of traveling abroad, make sure you and your vet know what documents are necessary for ease of entry into another country, particularly a European country. Make sure that your pet has vaccination and rabies records up to date, the information is not more than 10 days old and that you have two or three copies of this record with you. Also, if your dog or cat isn't micro chipped, have your vet place a microchip in your dog. Please see my article on Microchipping Your Pet, dated 3/7/16.
4. Ask your vet for information on traveling with your pet, and let him know where you are going, how you are going to get there and how long you will be gone. Ask for a referring veterinarian in the destination area, and keep the phone number of the vet with you. Get information from your veterinarian information on medications for motion sickness, tranquilizers he would recommend, and any health dangers in that area, such as tick, heartworm or flea infestations.
5. Purchase an appropriate pet carrier or pet crate for your pet, depending on its size and how you will travel. The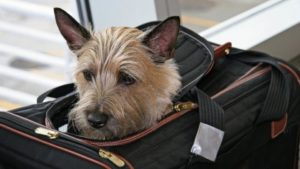 carrier you choose should allow the pet to stand up, turn around and lay down comfortably, and should be free of any interior protrusions that could injure your pet in travel. There should be adequate ventilation and a waterproof bottom. Your pet should be secure in the pet carrier. Make sure your name, your pet's name and address and phone are printed on the carrier in indelible ink.  Please be sure that your dog is ready to travel in his crate. Don't spring this mode of transportation on him on the day you leave. Spend several weeks getting your pet used to the carrier or crate increasing intervals before embarking on your pet vacation.
6. Check with BringFido.com to find pet friendly hotels, and be sure to double check with them before making reservations (policies do change, sometimes with new ownership or the time of the year). At BringFido.com, you can search for pet friendly hotels in any city worldwide.
7. If you are planning to travel via air with your pet in the cabin, you will not only need to have an approved airline carrier but you will need to let the airlines know that you are traveling with a pet. You need to make the reservations for both you and your pet over the phone. Pet reservations cannot be made online.
The object in traveling in the cabin with your pet is to be as unobtrusive as possible. The better behaved your pet is (no running loose, no barking or howling), the more likely it is that the airline will continue its pet friendly policy and will encourage others in the industry to accommodate pet owners as well.
8. When packing for your trip, you will need:
The veterinarian's documents for your pet
Your pet should be micro chipped and wearing a collar with your information on it
Bring a current photo of your pet with you in the case that he becomes lost
Your pet carrier or crate, complete with identification
A leash and an extra collar. Make sure your pet isn't wearing a choke collar of any kind.
Extra sheets or an old blanket for under the carrier for travel in an automobile
A couple of sheets to cover furniture and/or the bed at your destination, just in case
A blanket or cushion from your pet's home bedding
A container of your pet's food. If your pet eats a common food and you know that it is available, you needn't bring a whole bag. But, if you don't know if you'll find your pet's food, then bring it with you. (Don't forget a can opener and spoon, if needed) Do not switch food on your dog; this may cause stomach upset.
A portable food and water dish, and a portable water container for traveling while at your destination. Pet bottle tops are great for traveling because they fit on a typical water bottle and will allow your pet easy access to hydration.
Bring bottled water or tap water stored in plastic jugs. Drinking water from an area he's not used to could result in tummy upset for your pet.
Backpack for your dog if you are going to be doing hiking or walking.
Booties for your dog if you plan to travel on uneven or hilly ground
Favorite chew toys
Treats
Grooming supplies, such as a brush or comb, a lint remover for hotel furniture, tweezers, scissors
Trash bags and waste removal bags
Disinfectant and carpet cleaner if you are staying with family or friends
Extra old towels
If traveling by car, use a pet carrier pad. If you decide to take a short walk, use a harness and leash.
Don't forget your pet's medication, particularly enough of any prescription medication for the trip
Use a pet harness device when traveling by car. In case of an accident, dogs can be thrown around the car and be injured or injure the driver or passengers as well.
Flashlight (for walking after dark)
First aid kit for humans and pets
9. If you are traveling by car, make sure your air conditioning is working properly and that you use it while driving. Don't roll down the windows and let your dog hang its head out of the window, and never have your pet in the back of a truck. It is a good idea to harness your pet when driving for their safety.
10. Pack a relaxed attitude. This is supposed to be fun for your family and your pet. Check out interesting places to visit along the way or at your destination, and plan extra time for impulse side trips.
THE CRATE
Look for these features when purchasing a crate:
Large enough to allow the dog to stand, turn and lie down.
Strong, with handles and grips, and free of interior protrusions.
Leak-proof bottom covered with absorbent material.
Ventilation on opposing sides, with exterior rims or knobs to prevent blocked airflow.
Label with owner's name, address and phone number.
Stock the crate with a comfortable mat, your dog's favorite toy, and a water bottle, and your dog is ready to go.
TRAVELING BY CAR

      
Get your dog used to the car by letting him sit in it with you without leaving the driveway, and then going for short rides.
Avoid car sickness by letting your dog travel on an empty stomach. However, make sure he has plenty of water at all times.
Keep the car well-ventilated. If the dog is in a crate, make sure that fresh air can flow into the crate.
Do not let your dog ride with his head sticking out of an open window. This can lead to eye injuries.
Never let your dog ride in the back of an open truck. This is extremely dangerous and can lead to severe injuries or death.
Stop frequently for exercise and potty breaks. Be sure to clean up after your dog.
Car rides are boring for everyone, so instruct your children not to tease or annoy the dog in the car.
Never, ever leave your dog unattended in a closed vehicle, particularly in the summer. If you must leave the car, designate a member of the family to stay with the dog. Please see my article on Hot Weather Pet Care, dated 6/27/16. If you see a dog in a closed vehicle and it appears to be in distress from the heat, call 911 immediately!
TRAVELING  BY PLANE
Each airline has its own set of rules for canine air travel. You should call for information and make arrangements well in advance of your trip. BringFido.com lists airlines and their respective policies in pet air travel.
All airlines require health certifications and proof of vaccinations.
Some airlines will not transport animals when it is extremely hot or cold.
Dogs must be in an airline-approved crate when transported as cargo. Small dogs may ride under the seat in a crate or airline carrier. Check with your airline to get their policy on dogs and air travel. (BringFido.com)
BY TRAIN, BUS AND BOAT
Most states restrict the travel of pets on trains or buses. Dogs are not permitted on Amtrak trains or on buses operated by Greyhound and other interstate bus companies. (Service dogs are permitted.) Local rail and bus companies have their own policies.
You may fare better if you're taking a cruise. The QE2 luxury cruiser, which sails from New York to England/France, provides special lodging and free meals for your dog. However, you should check the policies of the cruise line or ship you will be traveling on before making plans to take your dog on a cruise with you.
LODGING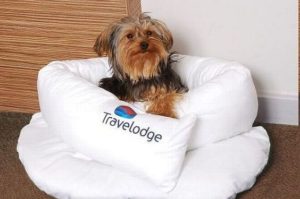 Find out in advance which hotels or motels at your destination or on your route allow dogs. Many do not, or have size or breed restrictions. Check BringFido.com for listings of pet friendly lodging.  If your dog is allowed to stay at a hotel, respect other guests, staff and the property.
Keep your dog as quiet as possible.
Do not leave the dog unattended. Many dogs will bark or destroy property if left alone in a strange place.
Ask the management where you should walk your dog, and pick up after him. Do not leave any mess behind
Be considerate of others and leave your room and the grounds in good condition.
Regardless of where you're traveling, be sure to comply with local leash laws and always clean up after your pet as a courtesy to others who are sharing public or private space.
PREP YOUR HOSTS
If you are planning to stay with a family or friends, be upfront about your pet's needs so there are no surprises.  Be sure to ask about their house rules concerning your pet:
Are pets allowed on the furniture?
Can your dog do his business in the yard, or would your hosts prefer that you take your dog for a  morning and evening walk?
Is the yard fenced?
Are there other animals in the home?  Are there children, and how do they react with dogs?
Is there a safe room where your dog can stay if you leave the house, or should he stay in his crate?
Following your hosts' rules or wishes will make your stay more peaceful and comfortable for everyone.
Traveling with a dog can be a fun experience for both of you. Just remember to be as prepared as possible wherever you go. With thoughtful preparation, you can ensure a safe and comfortable trip for everyone.